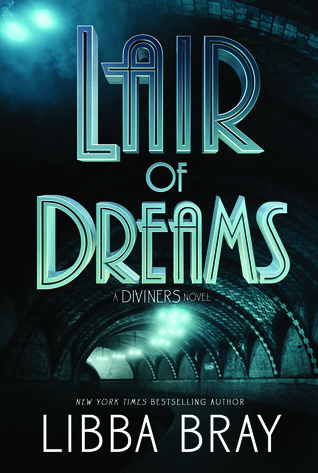 Title:

Lair of Dreams
Author: Libb

a

Bray
Published: 25th Augu

st

2015
My Rating:

3

/5
Recommend: Yes
Synopsis:
The longing of dreams draws the dead, and this city holds many dreams.

After a supernatural showdown with a serial killer, Evie O'Neill has outed herself as a Diviner. With her uncanny ability to read people's secrets, she's become a media darling, earning the title "America's Sweetheart Seer." Everyone's in love with the city's newest It Girl…everyone except the other Diviners.

Piano-playing Henry DuBois and Chinatown resident Ling Chan are two Diviners struggling to keep their powers a secret—for they can walk in dreams. And while Evie is living the high life, victims of a mysterious sleeping sickness are turning up across New York City.

As Henry searches for a lost love and Ling strives to succeed in a world that shuns her, a malevolent force infects their dreams. And at the edges of it all lurks a man in a stovepipe hat who has plans that extend farther than anyone can guess…As the sickness spreads, can the Diviners descend into the dreamworld to save the city?

In this heart-stopping sequel to The Diviners, Printz Award-winning and New York Times bestselling author Libba Bray takes readers deeper into the mystical underbelly of New York City.
I received this book in an exchange for an honest review

Okay first of all, I did not realise this book is 600 pages. Blimey! No wonder it felt I was going through mud to finish this book. I have not finish a book like this since the Twilight Series!

This book would have probably been to understand if I had read the first book, but since I didn't I read it anyways.

So at first I had no idea this is part of the series and I had no idea what was going on, but luckily this book was a continuation from the first book, however the predominant characters were Ling and Henry. I immediately fell in love with Ling's character, I felt sorry for her too. I wanted to know what was wrong with her legs that she had to wear braces? I didn't find out until 1/4 of the book that she had infantile paralysis and that she could never walk again. It is no brainer to know why she loved to dream walk so much.

Henry on the other hand was searching for his lost love, Louis. They get separated thanks to the restrict ideologies his family have, mainly his father since the mother is shown to have lost her sanity (atleast that is why I gathered unless I am wrong). I really liked his friendship with Ling!

And Evie? I found her annoying after a while, she clearly had feelings for Jericho but was not acting upon it because of Mable. I did love it when she was with Sam, if it does not work out with Evie and Jericho I would love to pair Sam and Evie together! :)

I loved Sam and Jericho, both of these boys were clearly conflicted when it came to Evie. Sam just wanted to find out what happened to his mother, not realsing that Project Buffalo would soon involve all of these characters.

How can I forget Theta and Memphis? What an adorable couple! I was a bit disturbed by how Memphis was made to feel by how he looks, I can't say I liked that! :(. Memphis better realise what Billy is up to and save his brother, he seems like a creep to me! Yikes!

It was interesting to see how these characters were brought together in the second part, whilst in the first part it was just individual's tale.