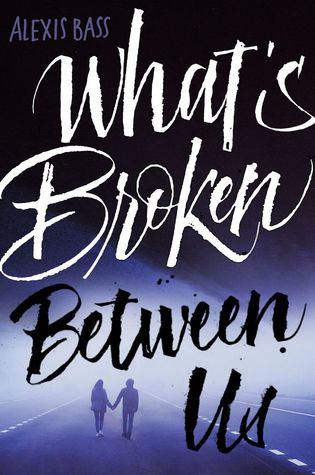 Title: What's Broken Between Us
Author: Alexis Bass
Published: 29th December 2015
My Rating: 1/5
Recommend: No
Synopsis:
Alexis Bass's heartbreakingly beautiful second novel is a tale of love, loss, and learning to forgive, perfect for fans of Gayle Forman and of Robyn Schneider's The Beginning of Everything.

A year and a half ago, Amanda Tart's brother got behind the wheel drunk and killed his best friend. Today, he's coming home from prison.

Amanda's been the one living with the fallout, made worse by her brother's recent unapologetic TV interview. People think he's a monster. Still, she loves him. It's her dark secret, until she starts getting close to Henry again--whose sister is paralyzed from the accident.

A year and a half ago, her brother destroyed his life. Now Amanda has to decide if she'll let his choice destroy hers.
I received this book in an exchange for an honest review (thanks to EW and the Publisher)

I am torn between two parts of this book, on one hand I really want to love this book because of the meaningful message, but on the other hand I want to tear this book apart if I had a Hardcover (read it on the laptop). I honestly don't know what to say about this book.

The story begins with Jonathan coming home from jail after he kills probably one of the most important people in his life, whilst the other ends up in hospital (Grace dies and Sutton can never walk again). Honestly, when you read the plot you expect some kind of life changing story that will really move your emotions and take you somewhere you don't want to go. Er...sorry to disappoint but that does not happen at all.

Jonathan shows no remorse of what he did, although you do get glimpses of him missing Grace and perhaps remorse? (I don't know, as all of these were under alcohol and him being drunk). Like seriously? how can he act like this? Tell everyone to get drunk and then kill everyone they love? I am astonished by his audacity! What's even more infuriating is that he acknowledges how destructive he is being to everyone around him yet he still continues? I didn't like Wren's character at all, and I think she is serioulsy messed up for giving Jonathan that confidence back and more alcohol!!!

And What's wrong with both of their parents and Amanda???? I felt like going inside the book and shaking them up. Why is it that they can see all the wrong signs but turn a blind eye? And what is up with the blind faith Amanda has in her brother? I get that he is family, but seriously has she forgetton that he killed someone?

And the parents? Don't even get me started. Their mother is the worst, she refuses to see anything being wrong with him and just locks herself in her room, she follows the manta if you don't see anything then it is not real. Atleast the dad in the end tries to take some action even though it is too late.

The romance between Henry and Amanda? I would say it is wrong on so many levels even though they are clearly meant for each other! No more comment on this (they start a relationship whilst they are already in relationships!!!)

I am just rambling now, but I wanted to love this book so much in the end I am glad to finally have read it. I would have loved the story from before the accident as that seemed much more interesting and better. I carried on reading just so I could read more about the past, it's not much though but I guess that would have ruin the whole moral of the story.