"Waiting On" Wednesday is a weekly event, hosted by Breaking the Spine, that spotlights upcoming releases that we're eagerly anticipating.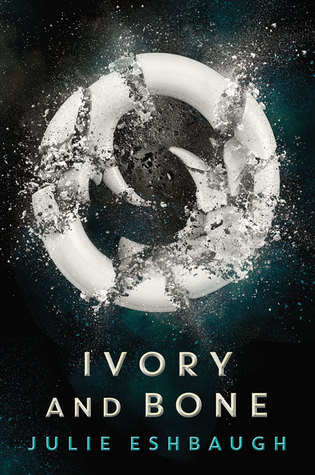 Ivory and Bone
Julie Eshbaugh
Debut author Julie Eshbaugh's sweeping prehistoric fantasy—with allusions to Pride and Prejudice—will enthrall readers with high-stakes survival, blinding betrayal, and star-crossed love.

Hunting, gathering, and keeping his family safe—that's the life seventeen-year-old Kol knows. Then bold, enigmatic Mya arrives from the south with her family, and Kol is captivated. He wants her to like and trust him, but any hopes of impressing her are ruined when he makes a careless—and nearly grave—mistake. However, there's something more to Mya's cool disdain…a history wrought with loss that comes to light when another clan arrives. With them is Lo, an enemy from Mya's past who Mya swears has ulterior motives.

As Kol gets to know Lo, tensions between Mya and Lo escalate until violence erupts. Faced with shattering losses, Kol is forced to question every person he's trusted. One thing is for sure: this was a war that Mya or Lo—Kol doesn't know which—had been planning all along.

With riveting action and illustrative prose that leaps from the page, newcomer Julie Eshbaugh will have readers mesmerized.
Water's Wrath
Librarian turned sorcerer. Sorcerer turned hero. Hero turned puppet.
The Solaris Empire found victory in the North and, at the cost of her heart and her innocence, Vhalla Yarl has earned her freedom. But the true fight is only beginning as the secret forces that have been lurking in the shadows, tugging at the strings of Vhalla's fate, finally come to light. Nowhere is safe, and Vhalla must tread carefully or else she'll fall into the waiting arms of her greatest foe. Or former lover.
SO I AM FREAKING EXCITED!!!!!! CAN YOU TELL HOW FREAKING EXCITED I AM??????
I am loving these books sooooooooooooo much, I cannot wait to read them, I had to just had to add the Water's Wrath book how can I not? ;) I know you will probably get annoyed by how much I am on love with this cover, well both of these covers!!!! Why do publishers torment us book lovers and put the release dates so far away????
What are some of the books you

r

waiting for?

Let me know in the comments below!
Happy

reading!!!