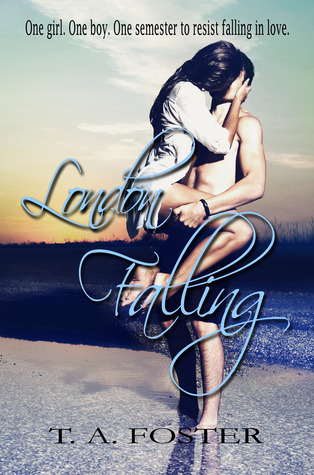 Book: London Falling
Published: 14th January 2014
Synopsis:
It's London's senior year and she only needs one class to graduate. She just didn't expect her final assignment: fall in love.

Communication 224 has a reputation for giving out the most unique projects of the semester. When London James and Beau Anderson signed up for the class they had no idea they would be paired up together, much less spend an entire semester working on their final grade.

Professor Garcia tasks them to produce a study on the hit reality show, Love Match, a show about strangers falling in love on over the top dates. London and Beau decide to debunk the popular show's fantasy portrayal of romance. Determined they can date the entire semester and not fall for each other, the classmates share blogs about their dates and start a website where everyone can follow their dating experiment.

Is staying out of love as easy as it seems? Headstrong and success-driven London discovers there might be more important things in life than an A.
Ah romance! :)

This book was not what I expected at all, I mean you could tell synopsis that London and Beau would have sizzling chemistry but not like this!





It starts off both Beau and London being paired for Comms class and hearing that Professor Garcia's class is an easy A which is very important for London to maintain and get. We find out later in the book why as she has an agreement with her parents. Her family is nothing like what I expected, very easy going.





Beau and London's relationship are similar like magnets, they repel each other but exactly what the other needs. A match made in heaven.
(
there was some sex scenes involved and a lot of hide and seek romance!)


The were a few moments in the book when I wanted to scream at London for making the wrong choices, it was about time when she realised love conquers all!
[(there was some sex scenes involved and a lot of hide and seek romance!) (hide spoiler)]