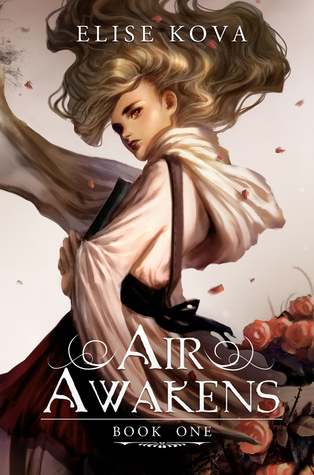 Title: Air Awakens
A

uthor:
Elise Kova
Published: 27th August 201

5
My Rating: 5/5
Recommend: Yes totally!
Synopsis:
A library apprentice, a sorcerer prince, and an unbreakable magic bond...

The Solaris Empire is one conquest away from uniting the continent, and the rare elemental magic sleeping in seventeen-year-old library apprentice Vhalla Yarl could shift the tides of war.

Vhalla has always been taught to fear the Tower of Sorcerers, a mysterious magic society, and has been happy in her quiet world of books. But after she unknowingly saves the life of one of the most powerful sorcerers of them all—the Crown Prince Aldrik—she finds herself enticed into his world. Now she must decide her future: Embrace her sorcery and leave the life she's known, or eradicate her magic and remain as she's always been. And with powerful forces lurking in the shadows, Vhalla's indecision could cost her more than she ever imagined.
I received this book in an exchange for an honest review, thanks to YA Book tours

I have no idea, no logic, no coherent thought as to why I have left this book so long to read and honestly? I am regretting everybit of it! All that is going in my head is why did I take so long? Part of it is due to me being in a reading slump, but I can tell you my sweet, sweet, sweet and lovable prince Aldrik got me out of that (shhh..don't tell Vhalla she might send me flying away if she knew about this)

The starting of this book I have to say was quite how do I put it? ....not really attracting my attention and with any book that you are not looking forward to read, I was wondering if I made a mistake of requesting this book. But that feeling did not stay for long especially when enters Prince Aldrik he literally has the whole place on fire!! ;) Ahhhhh...my love *swoons*

When you are first introduced to Aldrik you cannot help but think what a asshat he is, he literally is. I mean what kind of sane person would thrown someone off the tower to awaken their powers? Surely there are better methods than this. I got really annoyed at this part, it made me think if the whole story would be just based on Aldrik being a jerk. But you see a real change, now hold your horses, when I say change what I really mean to say is you see some remorse or are told really (since your reading the book, you can't really see Aldrik feeling remorse can you?). That my friends is where the story really begins and it gets interesting. I feel like in this book Aldrik has two persona's, one which he specifically displays to his subject or people and the other how he acts towards Vhalla; both are very distinct. Now don't go thinking he has a personality disorder that is not what I am trying to say, what I mean is he acts like a different person with her which is both refreshing for him because a) he has never had that before and b) it shows he is more than what we are told. I would say his character is an enigma I have no idea if that what Elise was trying to illustrate. But I feel like the more you try to decipher Aldrik the more intense the layers get as you get deeper. In the end? It's best to let Aldrik show you himself when he is ready. They don't call him the Fire Lord for no reason eh? My silver tongue prince :)
If you really want to see a drastic change or build up of character now Vhalla she is your girl. She is presented as a sweet, loving, shy and book lover (like me! Except for the shy part). She is very intelligent and just wants to immerse herself in the library and books! (my dream world). I would describe her in the book as two parts; the first part is when you see this sweet, innocent girl who comes out of her shell for the first time. And in the second part; she breaks out of her shell and faces the whole world all the while growing up at the same time. She is broken into pieces, the trials she endures, her happiness, sweet memories, friendhship. Sometimes in life you often have to lose some and win some, this is exactly what happens to Vhalla she loses certain things in her life in order for new things to take place and yes your right if your thinking along of the lines of Aldrik.

I don't want to give too much away and it is very hard to refrain yourself and deciding what to say and what not.

The plot I thought was very stereotypical in the sense of a girl having special powers but has no idea and chooses not to believe it until fate intervenes. And BAM! Here comes the transformation and the tribulations. But what I liked most about this story is the originality, you might find some common areas and you will, I will not deny you that. But the reason I think anyone who reads this book is simple, you will fall in love with Aldrik and Vhalla along with other characters like Larel or Fritz and how can I forget the heartbreaker prince Baldair (although I am yet to still see the reason why he is named that? Cos of his charm?). I can guarantee you will fall in love with this series, the way Elise has woven this tale is truly tremendous, magical. There is everything in this story, drama, romance, action, mystery, magic everything!!!
Man it is so hard to write a review, I had to change this several times. Since I have read the other two books I want to say more but that would be spoiling it for you guys! What do you guys think of this series? Are you loving it like I am currently? (liking is not the correct term more like obsessing) Let me know in the comments below
Happy Reading!